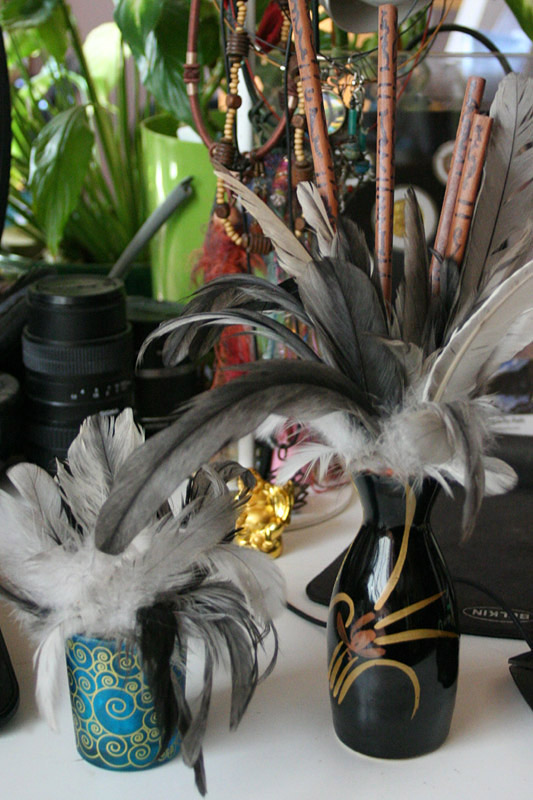 This is about 2 roosters, and their feathers after a night in the tree and life and death and what we don't know. So if you were looking for info on rooster feathers or some such thing – this is not it.
Background: A few evenings ago, one of the blue blue Andalusians was sitting tucked away on a sturdy twig in a v-shape opening between 2 trunks in a tree where the rooster hang out during the day. Since he was not willing to budge, I managed to take him off and put him in the newly made enclosure, which they had a chance to get used to for a couple of days. He did fine. The next day he came into the coop with all the others. The next day also, but then there he was again …in the tree without showing signs of wanting to move – … I sat by the pop-hole enticing the others and  – he finally did come too. Then, 2 mornings ago – one of the blue Andalusians was out there so fast – I wondered if I had missed him in the coop, though I thought I counted them.
Last night, there were 3 of them in the tree – Mr Blue on his twig and 2 others, 2 splashes – looking all compfy on their branches. Enticing them to get into the coop did not make them budge, it was getting dark – so I said, to them and myself: ok, if that is what you want, and, not have had a trace of predators in 4 months, I left them there.
This morning: on my way down, but still at the house around 8am … i heard a commotion/upset chicken sounds  … it was brief – but once I arrived down there, they were nowhere to be seen. With a sinking heart, I looked around, found feathers, and further away, by the blackberry thicket, the half eaten body of one of them – the  splash, a small one, the one that had the injury to his wing when he was 5 days old. Sweet guy, holding his own, though always a little smaller, beautiful splash blue Andalusian. He had spark – his real name was Frank.
Could have been one of the cats … or a bird of prey.
I buried the rest of him, his body, after going about the morning chicken chores . Then I collected some feathers – feathers, they were beautiful birds – what is left – some feathers – amazing feathers, tender feathers – feathers are magical …. just some feathers left….. I have no idea who got them .. we have 2 cats …but…
It was a penseful day – contemplating about mother nature – and wondering if they felt fear or panic when chased and killed or if nature has a mechanism that makes being prey tolerable?
I recall being clipped while driving on a highway, spinning around in the car and hitting the mid-separator. There was no fear at all, no pain – I wonder if that is what animals go through? Some sort of state where there is no fear of pain? I think a death at the hand of the folks they were originally destined to go to is no worse, or is it? Maybe getting caught and put into the cone is more fear inducing? Though they get prayed over, they get told the day before that it will be their day to serve as food.
For me – it seems it will be difficult to deal with their deaths as I got to know them, and something of their unique beingness. There really is no such thing as "just a chicken". There is something – something  about cessation of life of another living being – life is sacred – but then ….and here is were words fail: IT IS ALL SACRED. It all is, all the time …..
In what seems to be my life, I have had some experiences and realizations – and – lately it feels that I am re-questioning everything again, going through considerations and questions about life god and everything anew.
Feathers – beautiful feathers – all that is left of these 2 beings which used to have life flow through them just a couple of hour before – what happened? The structures got disrupted – and not more life force flowing though that being – how fragile life is.
And as  I sat there by their area next to the orchard …..
Where did they go? what happens really? there is Being – God, energy, vibration, quantum physics tells us there really is nothing there. It is all in the mind. Where did they go?
It is ALL SACRED
Feathers, soft beautiful amazing feathers …
Feeling
Letting go
Considering  the beloved animals since last May of 2011 I have had to let go of:  Lessons about letting  go? Letting go  ….
Sitting there – realizing – feeling
More questioning
Wondering about what is conventional consensus reality and, given latest discoveries in physics – can it all be different, just like that?
What if roosters CAN get along – and don't HAVE to get killed?
What if the ENTIRE dominance theory in animal behavior everywhere is WRONG and simply so called because of the way the observers described behavior they saw?
What if death of domestic animals is merely a matter of contribution – they are slated to contribute for their flock to live and be protected by serving as meals/ What if their souls, prior to being born – KNEW THAT?
Consciousness – manifest as this world and untold others.
And don't tell me this how it is, or that is how it is: HOW DO YOU (YOU)  KNOW? You have been taught the same crap in school as everyone else. And even if this is how it is NOW – what about the next moment? How much of what you KNOW have you personally experienced and realized?
If life is like a video game, then there are certain limitations, and rules – but then – you can easily switch to another game with other rules.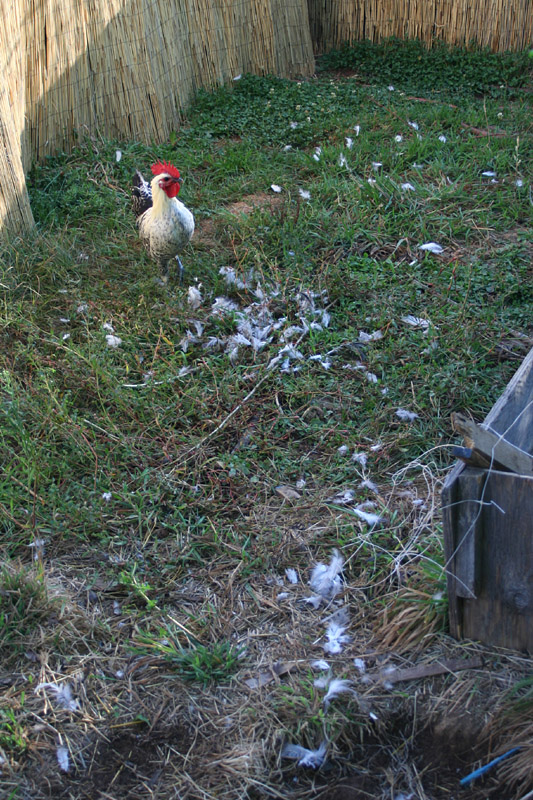 Whatever you believe – where do you REALLY go after life force stops flowing through your body? And maybe we all go to the place we believe in. Maybe we all simply are part of the big BEING – contributing with our life to it's beingness.
More and more THIS here seems to be true: be kind whenever possible – and it is always possible.
Feathers – so soft, so beautiful – fly free
I gave you the best chicken life I was able to.
When deeply feeling, there is no such thing as JUST A CHICKEN.
What you do to anything or anyone – you have done to BEING ITSELF.
It is ALL sacred.
Feathers and Lessons
and Gratitude.
Found and interesting link, wondering about why it feels so difficult with animals for me
The first 2 pics here are from the little chicks with the injured wing at 5 days. he did well – and the pics describe him 🙂 he was sweet but knew how to hold his own – nice character.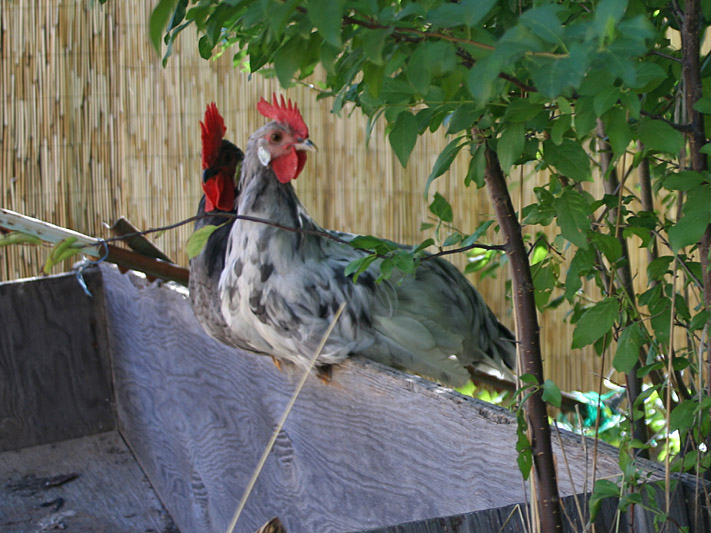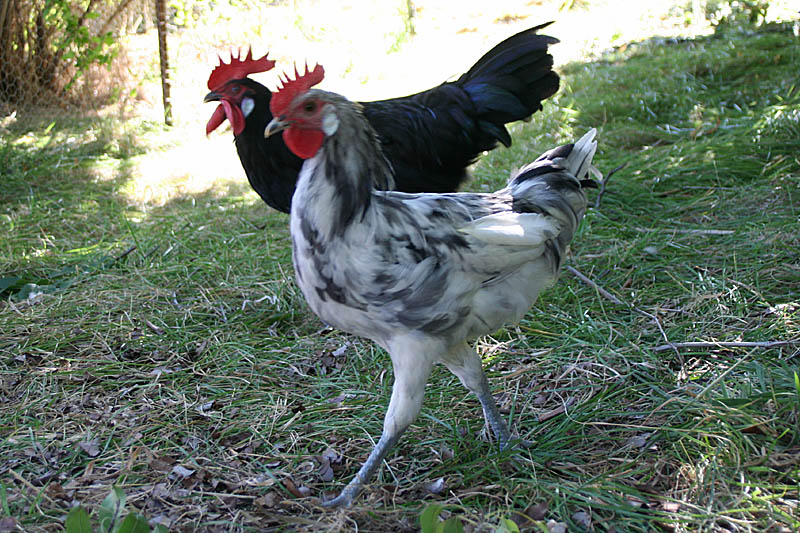 and here a couple of pics of MrBlue4toes: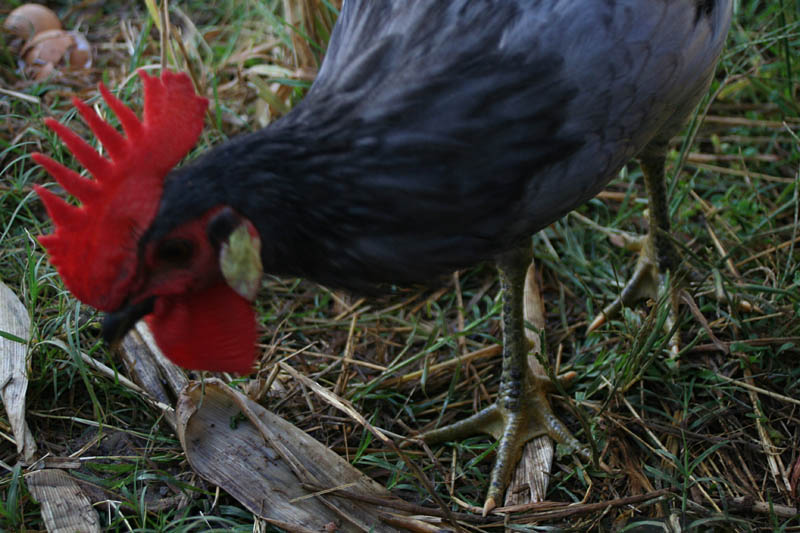 also in August