Beautiful Blacky – actually gorgeous Black "Blue" Andalusian: "Big Blacky" no longer needs a home – he has gone home.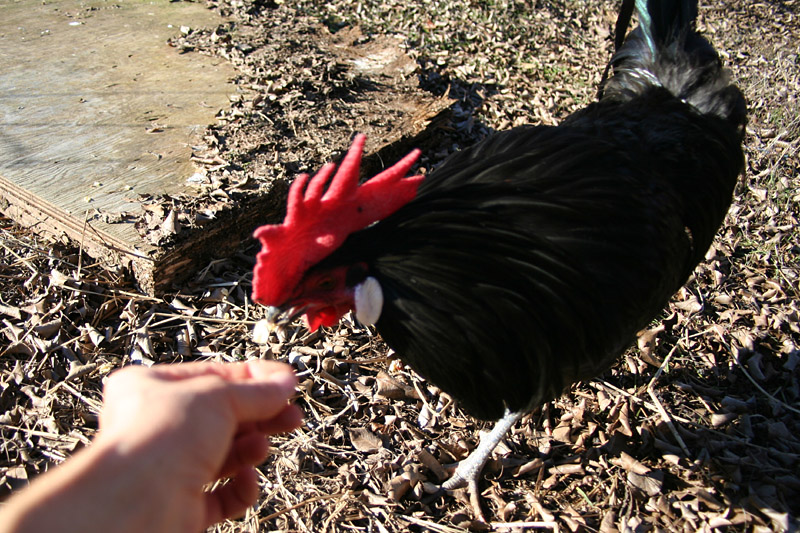 This morning (it is July 11, 2013) as I walked down the driveway I found myself thinking – I don't think Blacky is crowing, maybe he is done already for the morning? The others were, but then I was not 100% sure. I didn't think anything more of it because ever since his close call the other day I made sure both gates from the orchard to the rooster run are closed. But then, when he wasn't greeting me at the gate that separates the rooster run from the main run – like he does every morning – and when he was nowhere to be seen – I went looking and the rooster run was empty – no feathers anywhere. Blacky isn't like that – even if for some reason he was in a tree – he'd come around when he sees me – as each and every time.
nothing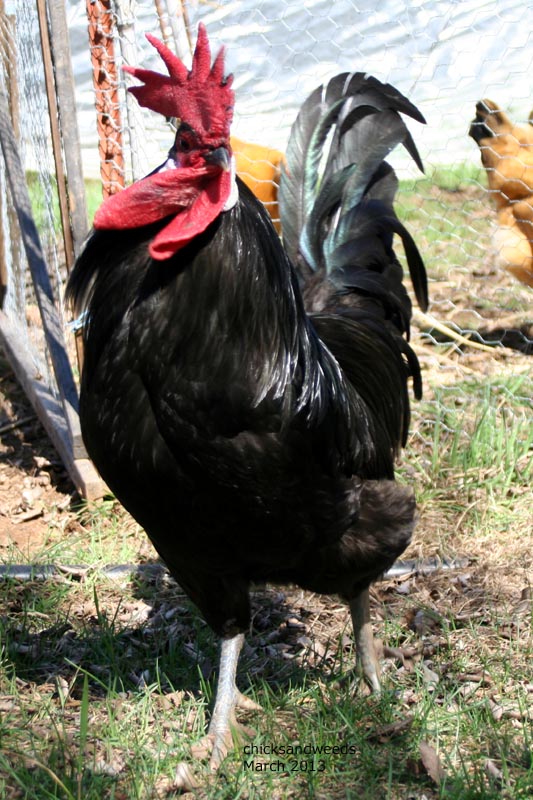 I went looking – and found some of his feathers – that wouldn't be so bad – but there was blood. I searched more – and found his head, then his body. Whatever got him was hungry …his comb half gone, his wattles, the neck-meat, one entire breast, thigh and part of the leg …
Strangely enough, while looking for him I found Brother-cat – who had been missing and thought quite ill, or dead. He was close to his body actually, but looked too ill to be the culprit. He is at the vet now and – ending up staying there with fluid in his lungs …
I do not know how it was that Blacky was out there – unless the doors are open, he does not go, and lately they have been closed except when i let them into the orchard a few days ago …but i think whatever is prowling gets into the run and then he manages to get out …but this time he must have decided to run rather than fly into a tree, who knows.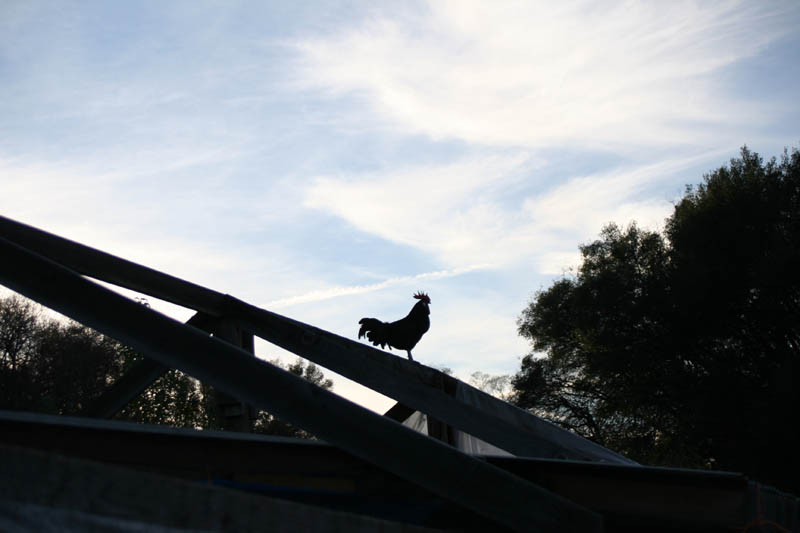 I had plans for him for breeding next year  – since he seemed so good the time he accidentally ended up with some of the girls in the orchard. Some of the hens were not opposed to him. He got along with his daytime rooster buddies. He always had a buddy or 2, or 5 or 9, depending when….and it worked out well. When Mama Fayoumi and her 5 chicks went into the orchard – he was just fine with that, not bothering her or the chicks. That was so nice to see after suspicions of being rough on the buffs last year.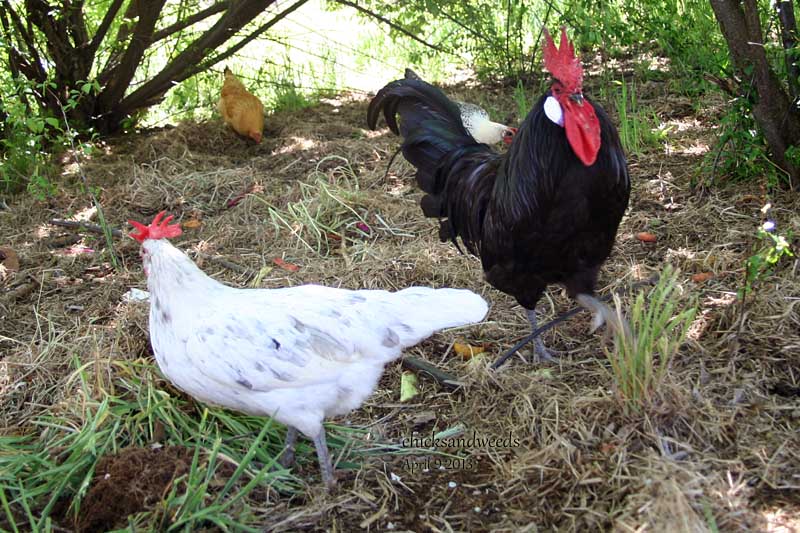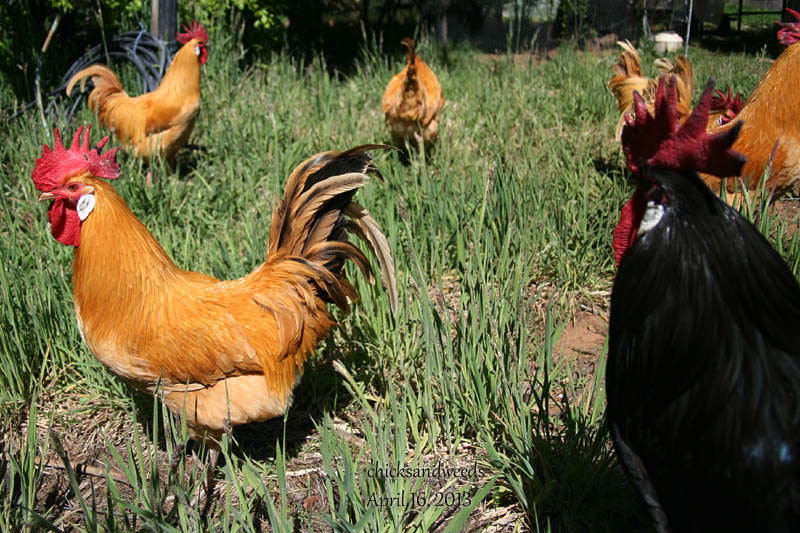 I remember yesterday morning – all the (3) roosters got treats, he did too and i gave them food and fresh water. In the afternoon, while the girls get to free range – they got to go into the compost run and see the rest of the flock (through the chicken wire door that is) and peck around  and I always throw some extra grains – which they then all peck together – albeit on different sides of the run.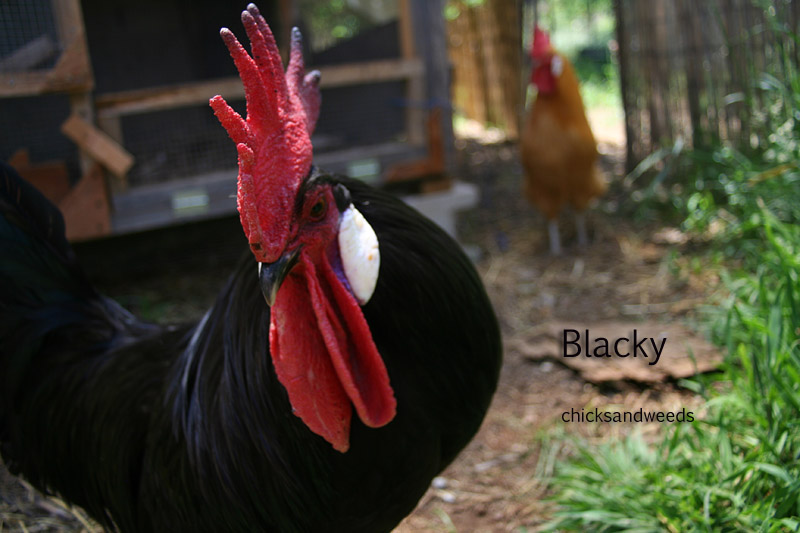 Blacky – you were a joy to me – thank you great spirit or whoever for letting him be in my live. My human is crying – and my soul takes it as a reminder: be kind to everything you meet, take the time, learn to be more compassionate while you have this body and this world to work with. All that is – only is like that one this one time. I will miss your plaintive voice Blacky – I know what your were telling me …next year …but then you left ….
Blacky – I loved you – and admired you, your beauty, posture and feathers so many times. And you were never mean. I remember hand-feeding you in the coop for 3 days when your hormones spiked and you could not stop running when your feet hit the ground. You learned to trust me then, you who were the biggest of the chicks and often off by yourself….and I learned about flighty and the transient nature of hormone spikes in roosters – or maybe the thunder spooked you too, on top of that. I miss you going on the roof of the greenhouse – and your crowing. – I don't know if you have a separate spirit or if you went back to the void as your life stopped flowing  through your body. I am making good use of it, for the dogs, the sick cat, myself and you are resting in the field, able to nourish it too. You were VERY healthy, in case you didn't know. I miss you, and as those of you guys before – your leaving is a reminder of the impermanence of this world, the shortness of this life, and a reminder to make good use of it. I gave you the best rooster-life i could. In the end, you got spared being transported in a dog crate and taken and "harvested". Maybe it is better to go down fighting, or, more likely in your case, running. I don't know, but it is nature's way.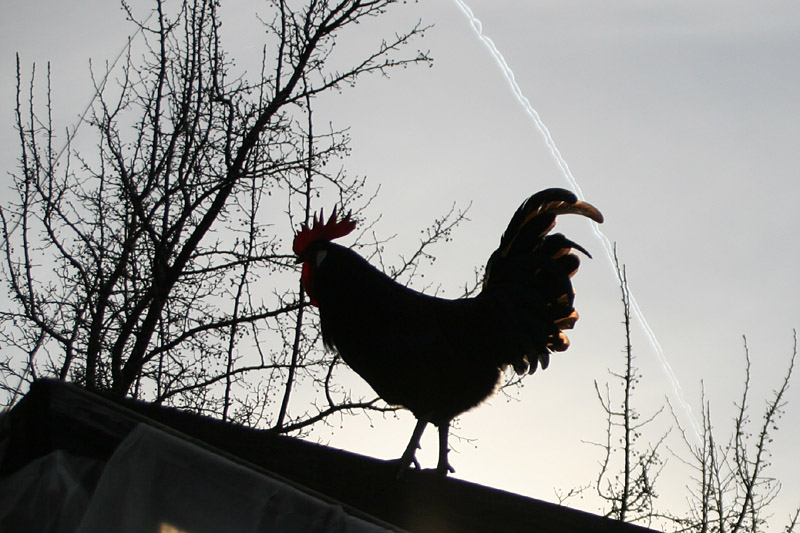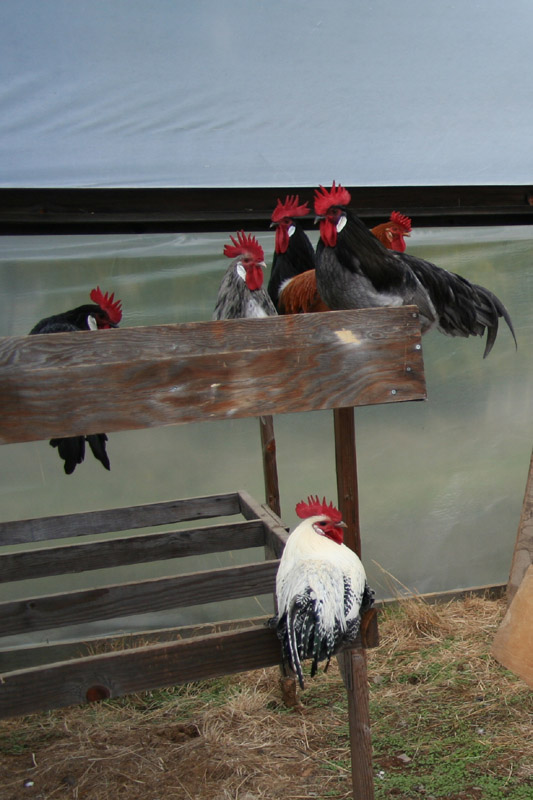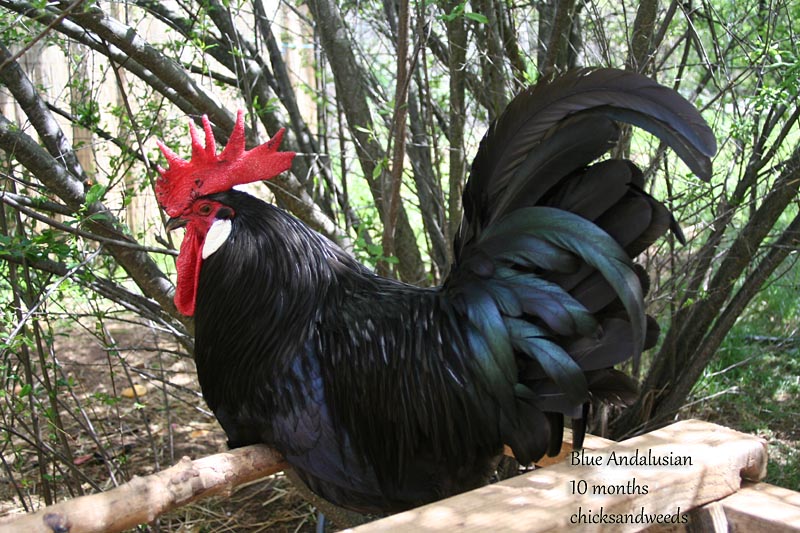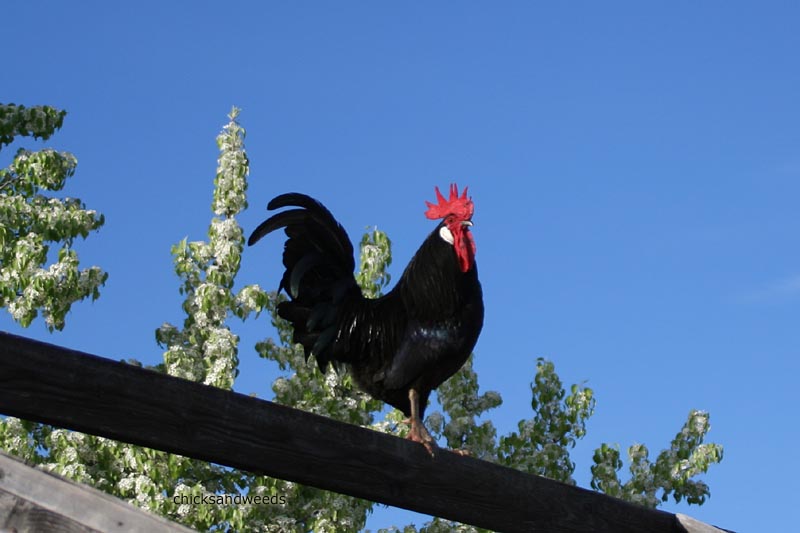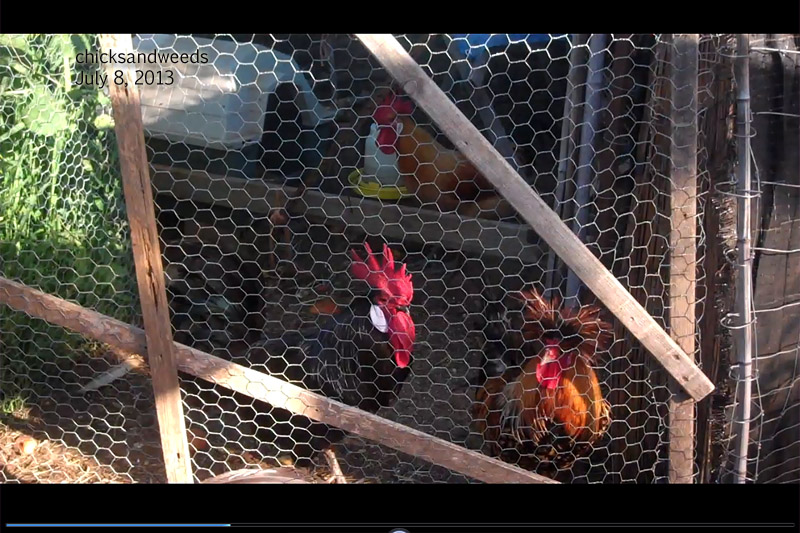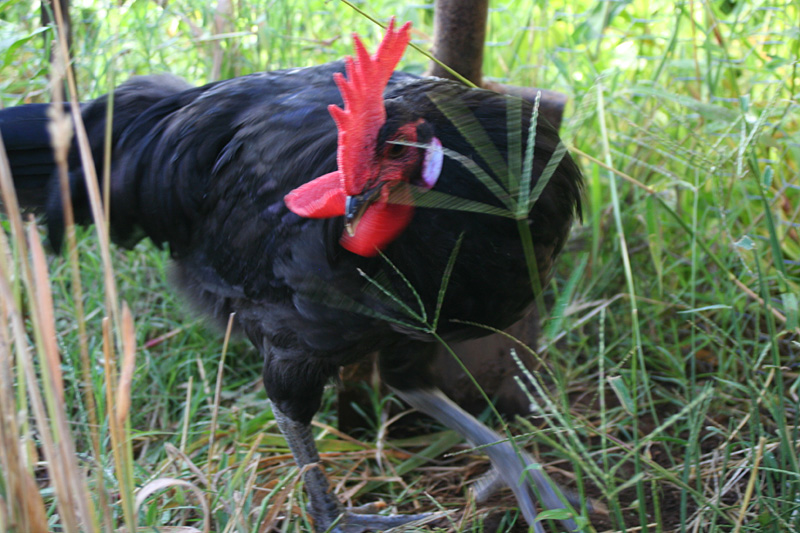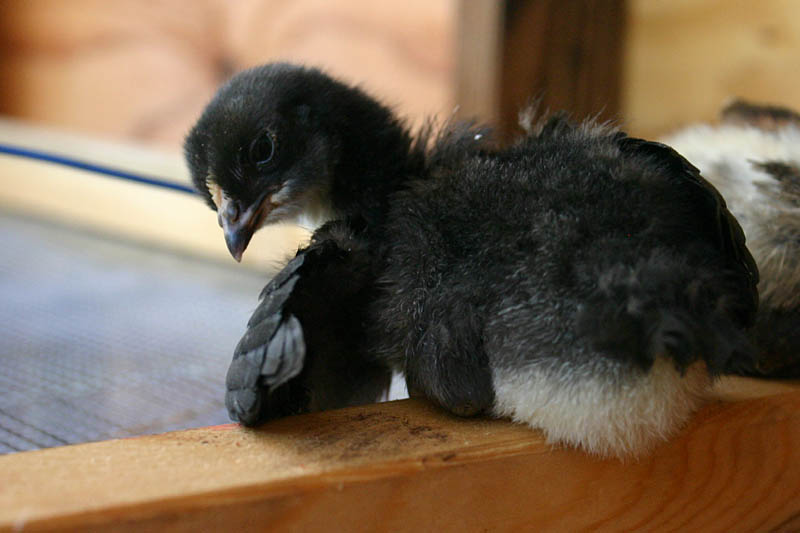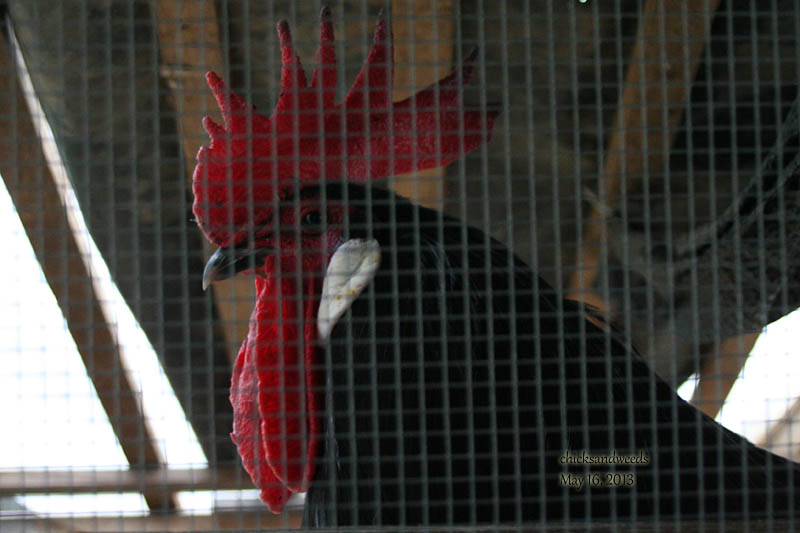 Just one more thing – I had a chick in my first run of 27 who had pasty butt – I probably saw it after 12 hours, and/but she pooped a lot after treatment. She was not well however and ate slowly …and I might have make matters worse the way I tried to dropper feed her. Today, I'd do it like I just did with cutie-pie and her food problem and general weakness.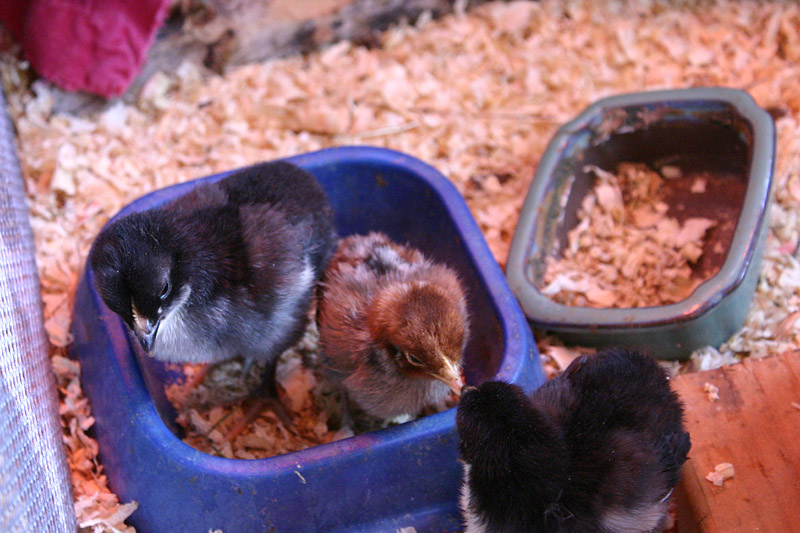 Anyway, this little fayoumi was getting weaker, and far from attacking her, one of the chicks was always with her – and Blacky was one of them. He stayed with her quite a long time. Blacky and Sweet Angel – if you do still exist somewhere, maybe you can run and fly together. It is a nice dream anyway.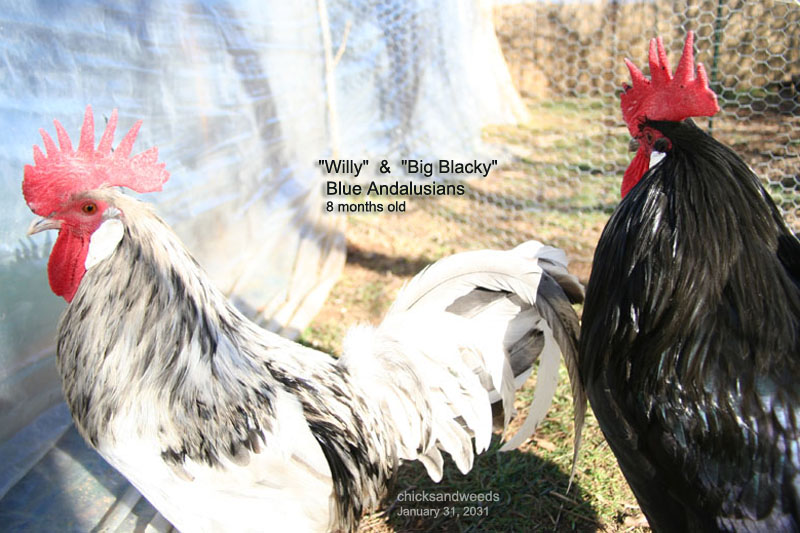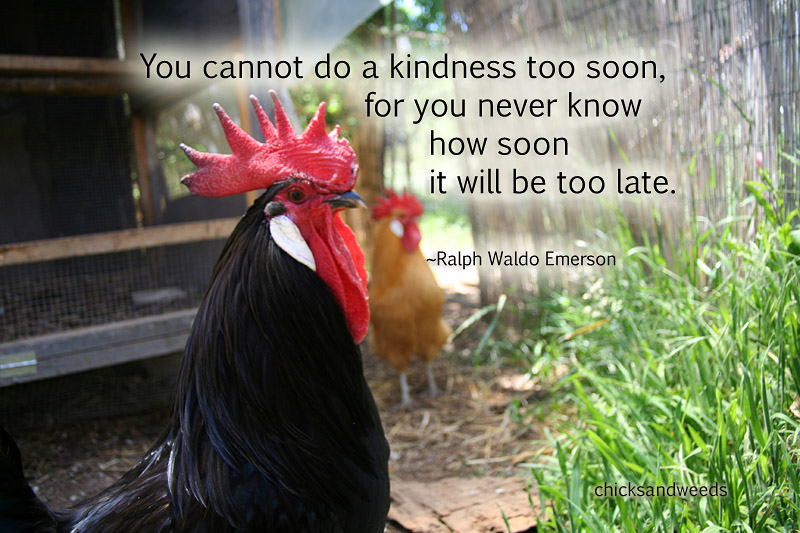 Many people will not understand, they'll call it sentimental or attachment…and besides, he is gone now, dead, not suffering anymore.  After all, it was "just" a bird, running on automatic programs. Ya, most of it all was just an instinctual program – and yet, the same intelligence, the spirit that runs through all creation, ran through him – and I met him – spirit expressed as him and uniquely him for all times and so I met, through him, the divine dimension of the Universe manifested as what came to be known as "Blacky". And so I honor him with this page – on the day he went back.
The human in me misses him – and my soul recognizes and walks a step closer towards compassion. Thank you Big Blacky.
The next day: I always knew I didn't want to send you to slaughter, but I can't believe how much I miss you there and hearing you …. and how regrettable it is you won't be there next spring for your own flock. Yet another lesson for me, a reminder: we only always have the moment – NOW.